BEST – Business Education Strategic Team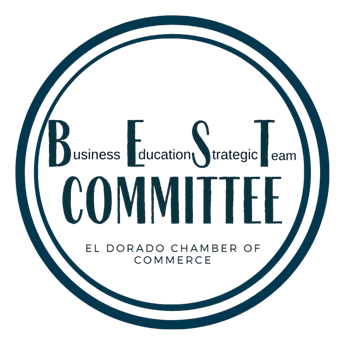 Click 2022 Career Expo Video
The BEST Committee help bridge the gaps between education, students and the business community.
The BEST committee acts as the Chamber's vehicle to identity, target, retain and recruit small business to the El Dorado community. This committee works closely with the City, County, and State, as well as other Community organizations to foster economic growth in the community. The committee shall recognize business for support of education programs, foster and encourage partnerships between the various educational organizations, legislative groups and the business community and promote awareness of education and workforce development issues to the Chamber's general membership. Another goal of the committee will be to cultivate and encourage business environment in the community which fosters entrepreneurship.
What is a BEST committee Member?
This committee serves to advise chamber members on matters of education that relates to the business community and promote a quality educational system and a well-trained workforce. Members of the BEST committee shall be informed and aware of the Chamber's mission and ideals. This committee is in support to the growing workforce initiative that bridges the gap between education and our business community to better align with workforce needs.
Best Commitment
Participate in monthly BEST committee meetings
Attend BEST committee events
Provide information to the business community and education systems the BEST objectives
General knowledge of the Chamber, it's staff, mission, and benefits
Benefits
Listing on Chambers website as BEST committee member
Opportunity to connect one-on-one with new existing Chamber members. Meet local businesses and community leaders.
Insider's perspective of the local business community
Help to develop, attract and retain a more skilled workforce
Bridge the gap between education and the business community
Want to show your Businesses Support?
With your business participation in ACT Work Ready Communities [ACT WRC] benefits not just your company, but your entire community. ACT WRC is helping job seekers in your area understand what skills employers like you are looking for, and it helps local educators prepare students for success. They need you as an employer to value their earning an ACT WorkKeys National Career Readiness Certificate!
For more information please visit: https://www.workreadycommunities.org/
Link for employer application:  https://www.workreadycommunities.org/business/form