The El Dorado Chamber of Commerce was founded in May of 1921. In light of our hundredth anniversary, the Chamber wants our logo to reflect the organization's true purpose. Utilizing the City of El Dorado flag symbolizes the Chamber's pride in our community and unity with our partners. It represents our members and the business community that we work for every day.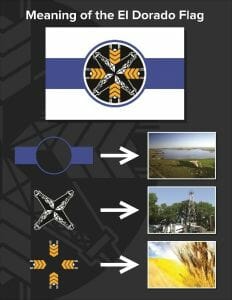 The mission of the El Dorado Chamber of Commerce is "to develop and enhance the economic vitality of businesses through community leadership, education, advocacy, and relationship development."
Business outreach and promotion
Legislative advocacy for all business
Business education and development
Fostering and building business relations
Small business economic development and expansion
The vision of the El Dorado Chamber of Commerce is "To retain and increase membership by providing valued benefits and advocating for business and infrastructure policies that inspire regional business and economic growth."
Chamber Leadership
The Chamber wouldn't be where it is today without the commitment of our local businesses and volunteers.
The El Dorado Chamber Board of Directors consists of up yo 13 Individuals from Member Businesses in good standing with the
El Dorado Chamber of Commerce.
The El Dorado Chamber of Commerce has an alternating board that allows for maximum diversity and continuous change.
Currently a board director serves a three year term. Where there are five new board members any given year.
There are also 4 At-Large director positions which currently serve 1 year terms.  These directors are also member businesses in good standing whose position in the community could have a significant impact in the Chamber.
There are also Ex-Offico positions that the Chamber board designates every year to individuals who hold certain positions in the El Dorado Community. Though these members are invited to come and discuss the topics at hand every board session, they do not actually hold a vote.
If you are interested in making a difference in your community and have a passion for helping other local businesses. Then you should consider serving on the El Dorado Chamber of Commerce Board of Directors.